My accomodation experience
Three friends and I decided to find an accomodation as soon as possible. We search on the web and we asked to ex-L3 students and we found an agency called London Solution. We chose them because we thaugt that they provided good services for a good price (in the London scale!).
Our choice: London Solution
A few weeks after, one of my future-roommate went to London in order to talk in face to face with London Solution staff:
The first surprise was the fact that the boss employs only French people to receive and help future and current customers. I think it is a good point for you in case of problem. Indeed, if your english is not yet perfect, talk the same native language is better to resolve a problem.
In the other hand, the bad point is that we cannot choose exactly one flat, customers have to tell us the area, and the staff will do their best in order to find a flat the nearest as possible. However, I advise you to book as sooner as possible, you will be the first in the list if other Efrei students wants the same area...
Our flat
A few days before the departure, London Solution told us where we were going to live: Marble Arch, 52 Great Cumberland Place, Westminster, London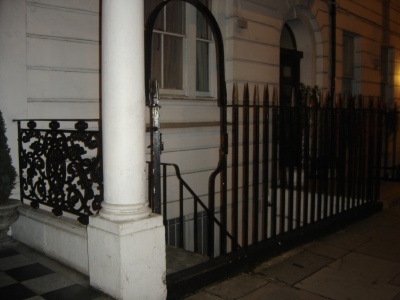 2 minutes to Hide Park by foot,
3 minutes to Oxford Street by foot,
20 minutes to Harrods by foot,
30 minutes to Piccadilly Circus by foot,
30 minutes to UCL by foot,
= the London dream,
In fact, when we saw the flat, the dream came over. It was a small flat without any common room expected the corridor, where they install a table, a micro wave and a fridge in order to make a kitcken...
Your choice: London Solution ?
Even if the appart was very expensive (90 £ per person per week) for the quality and the space, it was great to be in the center, so near to so many monuments, so many activities, so many stars. (we lived at 52 Great Cumberland Place, Madonna has a flat in the 51 Great Cumberland Place...).
A lot of flats from London Solution are well-placed, some are in a better shape. But is a flat with your friends the better solution? Let's visit the second part of the accommodation section!